Your front desk and team's performance can make or break your practice!
Your staff can cause:
Doctor's to stop referring
Patients to stop coming
Prospects to go elsewhere
Just the words they use (or don't use) can hurt your credibility and professionalism.
The rest of your team's performance will determine where your next patient will come from, through family/friend referral or marketing/advertising. Their performance will determine whether or not you are going to enjoy your practice. Recent studies reveal that the #1 source of the greatest headaches for business owners is EMPLOYEES. Times are changing, do you want to keep up?
BENEFITS of taking this course:
Never lose another prospective patient again!
Your entire staff will be working towardsbuilding loyal patients!
You'll enjoy more business as patients physically bring you in more patients!
Your team will be

 better, more cohesive, and more success!

Virtually eliminate "No-shows" and dramatically reduce cancels and reschedules.
If you want to maximize your internal marketing skills and take advantage of the FASTEST way to grow your practice, BRING YOUR STAFF to the limited-time only class! Whatever the cost may be to bring your staff will be returned guaranteed!
The TOPICS covered in this course are:
Words your staff MUST use when interacting with patients, and words they should NEVER use.
How to ACTIVATE prospects that have PPO insurance (out-of-network), uninsured prospect, high deductible insurance patient, auto injury patient, HMO (Where you are not contracted. Yes, you want them, too!)
Top 3 actions to gain the patient's loyalty
How to "activate" every single person that's interested in your services or programs.
The secret to patient "loyalty"
The 3-Step process to more loyal patients
Role-play conversations with prospective new patients
How to make patients loyal and get them to physically bring in more family and friends!
Take home the "Auto Train Your Front Desk & Staff" video training module for easy front desk training in the future!
Bring your staff!  You won't find any course like this anywhere, guaranteed!
Read more. Click on image below…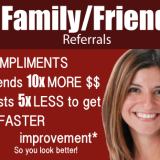 Consumers are expecting more than ever. The first indication of poor service and they will leave and never come back. Make sure your staff are properly trained on how to create high perceived value. For every one hour spent on training staff (on the correct things) brings a $10,000 return within 6-months. You can't make a better investment.
Get ALL the secrets
 at the conference!
Whether you are a beginner or experienced for many years this conference is most definitely for you!  See what others are saying about this conference>>
No Penalty Cancellation Policy
Hurry, limited seating!
For REAL 'hands-on' training, not presentation hype.